Last update
April 05, 2006
Sign My Guestbook
View My Guestbook
Attention!
Past attendees, note the changes in the registration fee
structure!

10th Anniversary Okie Rumble
October 21 - 23, 2006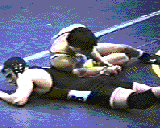 Two weekends of wrestling,
camaraderie, wrestling, networking, wrestling,
making new friends, wrestling.

OKIE RUMBLE 2006 !
WHEN?
October 21 - 23, 2006
WHERE?





The fabulous, infamous, fun
Habana Inn
2200 NW 39th Expy
Oklahoma City, OK 73112-8800
Phone: 405-528-2221
HOW to Register?
E-mail me - WRSTLOK@aol.com - with
Your Full Name,
Address, City, State, ZIP,
Phone Number,
Height and Weight, and preferred t-shirt size!

COST?

$75.00 (per weekend)
Mail check or money order payable to:
Mark Lopez
7100 Winston Way
Oklahoma City, OK. 73139

or payable on arrival.
This includes 2 hours of private mat time reserved on a first come first serve basis.

HOTEL Rates:
The Habana Inn has reserved a block of rooms for this event with special rates.
Please contact the hotel directly for special rates and your reservation. Check out their web site.
All Wrestlers coming for The Okie Rumble 2006 MUST identify as being with the Okie Rumble 2006 at the time of reservation!
Get the latest INFO!
Please visit this site regularly!
We update and complete the site on a regular basis.
Our most recent update was on April 05, 2006

If you have probems viewing these pages contact the Wesbmaster. Thank you!